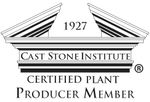 We custom manufacture our products according to the needs of the customer or architect. Quality is taken very seriously at Christopher Stuart Cast Stone, Ltd. The cast stone goes through a triple inspection and detailing process to ensure the highest level of quality and accuracy before shipping to our customers.
Our production process starts with a computer-generated shop drawing followed by the construction of custom molds by our in-house, highly-skilled mold makers. All products are manufactured and cured strictly in adherence to the standards set forth in ASTM 1364. Products are then packed with protective material and allowed to cure. Each pallet is carefully marked for easy product identification and retrieval. As well, our innovative piece marking system helps to simplify the identification of pieces during the installation process.
We use only the highest-quality raw materials that comply with the appropriate A.S.T.M. standards. Our finished cast stone products meet or exceed the performance standards set forth in A.S.T.M. 1364 for Architectural Cast Stone. Testing data shows that we exceed the minimum requirements P.S.I. (6500 lbs) and absorption (6%). We also have extensive experience with reinforcement, embedded steel applications and post-tensioning (Engineering).
Our Plant is more than capable of handling most any commercial or residential project, we have produced cast stone for projects ranging in size from several hundred dollars to almost a million dollars. Our team is highly trained and we adhere to the highest safety standards.
Christopher Stuart Cast Stone, Ltd. is a current Producer Member of the Cast Stone Institute and our Plant has been Certified by the Cast Stone Institute. We stand behind the quality of our work and provide a 10 Year Limited Warranty on our products.